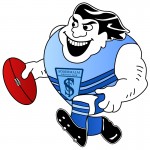 Saturday saw both work and pleasure. The AGM was a wrap-up in less than an hour, and under his firm leadership, Ivan "Baby Doc" Rexed, reshuffled the club board but managed to stay as President. Sean "Hardman" Hargreaves, who has been described as a rising star in the organization was elected VP, and John "Snooze" Murphy, who was moved next to tears when being told, took on the position as Secretary.
Henrik "Hanky" Engervall was busy elsewhere for the day, but sent a message loud and clear about was is to be expected from his term as Treasurer – "the negative result (-2500kr) is a disgrace, and will not be repeated, not on my watch anyway!" (The full financial report is available in the AGM minutes, free for any member to read. Just send the club an email).
The second point to be noted is that the AGM found ex-coach Daniel "Jordo" Jordan worthy of becoming the first ever Honorary member of the club. The nomination, sent in by "Lethal" Lars Hagberg is 'nuff said
"Danne Jordansson is awarded life honorary membership in Södermalm AFC for his achievements as a player, coach and board member. Through his expertise and dedication SAFC has developed to a professional and successful club. By never ending passion and care he has extended the commitment of the club outside the football field to become a sanctuary for everyone involved."
The following bowling was a showcase of the new Södermalm. 15 participants – new record – had little more to do than to watch the 16th, new recruit Chris "the bull" Angus, play strike after strike after.. well.. you get it. 220 points and another club record. Various counter measures was discussed among the other contestants, Bonecrusher suggested a tackle slightly from behind to the left, Lars, having written his final exam in law-something suggested paragraph 4.2 saying that if no rego had been payed Chris shouldn't count as a member yet, and iJoel was desperately searching the app-store on his iPhone for a bowling-app. All in vain. the club championships was settled. Good performance also by iJoel (159), and Seabass and Timbi (149).
In the couples round Timbi and Tallulah secured the victory with 253, followed by Petter and Lisa on 223 and Jenny and her boyfriend on 192. The presence of the ladies, as always, made the night a bit more pleasant.