The Clubs 5th Annual Dads and kids Camping long weekend took place at the Klämmingen lake in Sunny Gnesta.
Again The Mayor of G town B.Condon provided some great weather and late evening BBQ ribs to match! As the drizzle cleared up in the first hours upon arrival people began to pitch the tents! and enjoy the late summer weather over the course of the weekend.
With the temperature soaring above 20 degrees the kids were hopping from the 5 metre hop platform all day long late into the evening. The club welcomed Matt Hodgson and kids as first time club camper. He turned up in Style in his vintage 1950's Red SAAB classic car which created a buzz amongst all the campers, he also manage to land a 40cm Pike with his Boy Oscar.
The chess board was alight all day, to late into the evening with Grand master Elias K giving everyone a tickle up! especially Murf who he played blind folded.
On the Saturday arvo it was annual Kids v's Dads cricket. the kids are finally coming of age with the bat and ball posting 148 runs on the board. the dads though it might not be enough. Starting the chase strongly the dads were off the a flyer! however a late breakthrough and a middle order collapse saw the kids in total control! brilliant bowling and masterclass catching brought them back into the contest.
Piney almost went for another Quacker but escaped narrowly escaped! to wag the tail but alas the dads could only post 135 going down by 13 runs! the kids celebrated hard ! with a late evening swim in the lake.
By Sunday the fun was all over and many wished it could have been longer. We all started the pack up around lunch and manged to slip away before the Rain came back.
Another successful camping weekend with 6 dads and 11 kids. We hope more can get along next year and we look forward to the cricket rematch against the kids!!!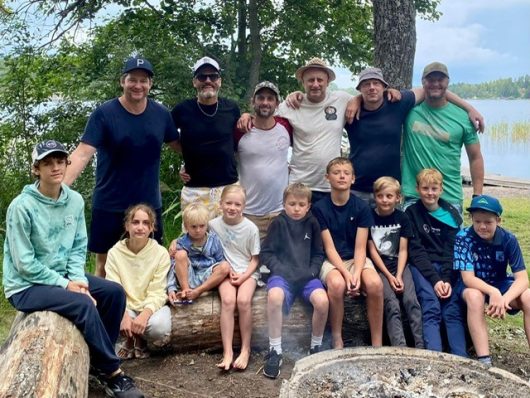 feel free to get in contact with the club about more info on camping! 20230729