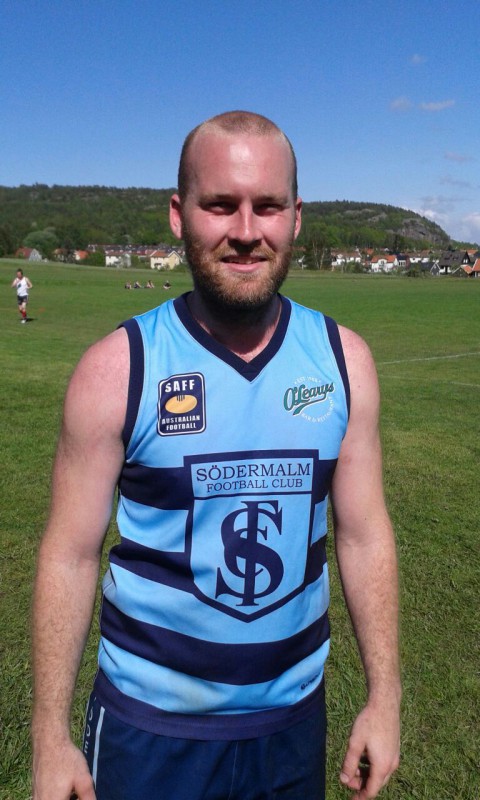 Our Club Co-Captain had an extraordinary year to remember and probably never to be repeated by anyone… ever.
Michael Larsson was our club Co-Captain.
He was our Club 'Non-Australian' Best and Fairest.
He was also our Club Overall Best and Fairest winning the "Jordo Shield" with a whopping 63 votes (2nd place had 35 votes).
He was our club leading goal-kicker with a club record 42 goals in 2015.
Mick won the Stockholm league (SAFF) Best and Fairest – The coveted Lars Hagberg Medal.
He won the SAFF league leading goal kicker award for 2015.
Mick was Co-Captain of our SAFF Premiership winning team.
Our club Södermalm also played in the inaugural Swedish national league – the Elitserien 2015. We won the Premiership of that league too – Mick was Co-Captain of our Premiership team and played the final game with broken ribs.
Mick was voted the Best and Fairest winner of the inaugural Elitserien league.
Mick also ran our club trainings throughout the season.
Earlier in the year, Mick and brother Max lead the Swedish National team to victory in the Nordic Challenge over Denmark and Norway.
Not a bad year hey? Captain of 2 Premierships, Club Best and Fairest, League Best and Fairest in 2 different leagues, SAFF League leading goal-kicker, Club leading goal-kicker, Club Trainer, Club Leader, represented Sweden and won the Nordic Challenge… and he is an all-round top top bloke.
We all love Mick, and look forward to seeing him leading the Blues to more success in 2016!