Sunday, 27th of August at the Good to Great Collector Bank Area, Danderyd, was the setting for this year's annual and always, hotly-contested, Söder tennis championship. With the weather, traditionally, proving to be pretty inclement in the last few days of August here in Stockholm, the championship was held indoors which proved to be not only a magnificent setting but a classy one too, and boy, was there some classy tennis action on the 3 side-by-side courts as the morning turned to afternoon! A lot of 'ringers' turned up to play which always makes for top competition.
Hot favourites and eventual winners, Jimmy and Big Blå were brought back down to earth in the first round of fixtures losing 6 – 3 to Ned the lover of Led and Danny Perillo. Meanwhile, centre court action saw the South Africa duo of Loges and Big H blowing a 4 – 2 lead to the late additions to the tennis 'tournie' of DK and Murphy, who powered through from behind to come out tops 6 – 4. This momentum gained by this cool and composed pairing saw them see off their next two sets of opponents to qualify automatically for the final, which was again to be staged on centre court. They would be heading into this final with an 'undefeated tag' – heavy lies the crown proved to ring true come finals time!
Other highlights from the first three rounds of pool fixtures saw a few tie breaks which always makes for exciting and at times, some desperate tennis and attempts with some of the Söder boys throwing their bodies around the courts. What was pleasing was that not too much colourful language nor raw emotions were thrown around but would tennis be tennis without a racquet or two being thrown at least once? Keeping with this theme, there was some racquet throwing on court 1 in the final round of pool fixtures – no names mentioned but one of the opponents happens to hail from WA, who got aced, so a lot of antagonising had taken place back and forth.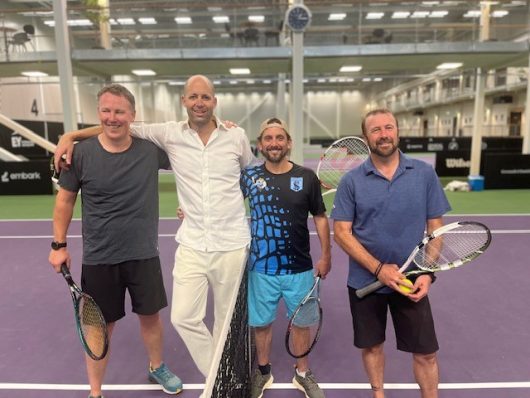 Immediately after club president Jordo and Söders tennis guru, A Brent Smith, went down in a gut-wrenchingly tight tie break to BIG Blå and Jimmy, a play off on centre court took place with WA's Big Bronza "Condy" and the lucid left-hander Triple M-Macca joining the fray but got pretty much blown away by the tennis trend-setters of the day. Crowd favourites DK and Murph had the boys howling encouragement and plenty verbals but this attempt could not help derail the 'Blue Train' with both Jimmy O and Sam full steam ahead from their serves, net play, general tactics and believe it or not, fitness! final score 6-0, 6-4.
See you at our next social event! The 2023 Södermalm Golf handicap – Sep 23
Author Sean Logan
2023 winner Jimmy O and Big Blå