The chance to win one of Söders most coveted awards- The Blue Jacket, saw a smattering of Söders finest golfers gather in the Agesta GK car park for the traditional pre-game bbq.
Söder illuminaries such as Jordo, Brissles, Condo, Macca, H , were joined by newcomers Tipping and du Plessis to watch Electric Blue produce one of Soders finest bbq's- black angus burgers with the lot With H lending his skills from learnt from Afrikaans boy scouts the coals were fired up to red hot and a selection of Aussie tunes reverberated throughout the carpark much to the enjoyment of the punters practising on the close by driving range.
Unfortunately some late pullouts, Hagberg sickness, Kingsley and Logan "teachers meeting" saw a shortened field of contenders With names picked out the hat the following pairs strolled to the tee Condo/Macca McCormick-Sam Electric Blue Austin/Jordo- self declared early favourites and best golf bag du Plessis/ H Van Niekerk- most racist pair Brissler/Tipping- Old Dog/New Dog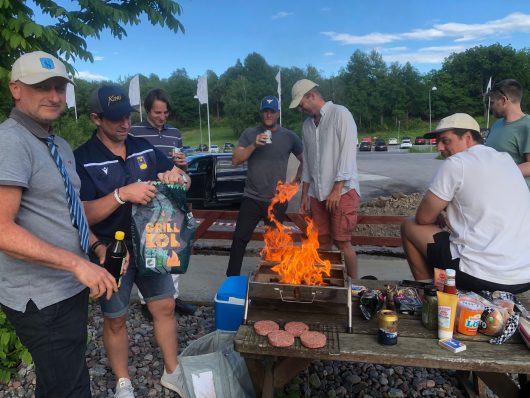 It became evident very quickly when Zach "Tiger" Tipping produced night vision goggles before teeing to ascertain pin distance that this pairing was going to be tough to beat. With Condo and Macca using the forest to their advantage is was also going to take some time for this pairing to get through 9 Jordo and Blue teed off next and quickly showed why they were so confident with some nice clean hitting directed at the foursome in front who were still on the green. H and no clubs DP were next and with H threatening physical violence if his partner did not perform at his best they too showed that they would be in the mix

The greens or browns as they were called, were clearly going to be a factor and caused havoc to all groups who made the best of approach shots- it has to be said they were disgraceful Newcomer Tipping who had recently been offered a tour card with Greg Normans LIV breakaway tour was clearly a cut above the rest. His long smooth driving and assured approach shots along with Brisslers cunning and guile saw them master the browns , Electric blue and Jordo however were not to be denied and kept coming like two old dogs at a bone

With the blue jacket coming down to the last hole all groups teed off together on the par 3. With the final hole settled and a barnstorming par by condo/macca the shots were counted 1 st Place and Blue Jacket Winners- Johnny Briscoe and Zach Tipping +2
Runner Up- Jordo and Electric Sam Austine Blue +3
3 rd Place H Van Niekerk and Pierre du Plessis +6
4 th Place – Ben Condon and Brendan McCormick +9
And with that H told everyone to go fuck themselves, stormed down to his specked up Hyundai and smoked it out of the car park, whilst condo went to the driving range to collect balls for the ones he lost on course.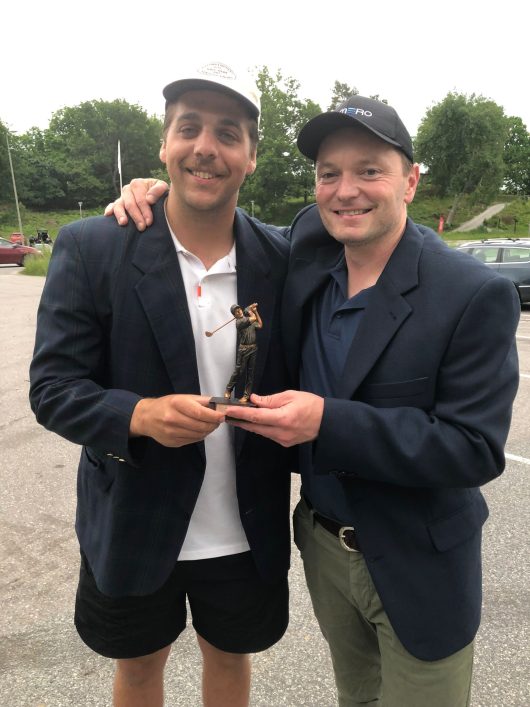 Written by Ben Condon