The second ever Soder Tennis Master Final will forevermore be referred to as "Dump Gate" not to be mixed up with Korv Gate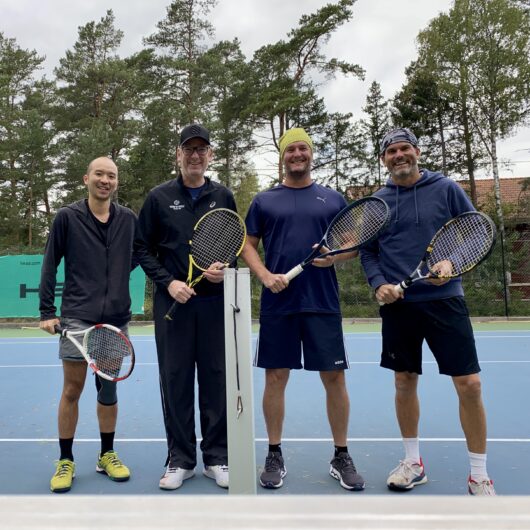 Qualifying Rounds– After exhaustive rounds of qualifying tournaments, the 2 best teams secured their spot in the season ending Söder Masters Tennis Final- At stake names in Söder history books and the donning of the famous Söder blue jackets. The 2 teams were by far the best teams throughout qualifying with the #1 seeded SuperMacs(Smith/Law) to play the #2 seeded Woodies pairing of (Kingsley/Condon)
Game Set and Match: Smith/Law (aka Super Macs) 8-6, 6-4, 3-6, 7-5
Well done Smithy and Nick- awesome competitive game of tennis which could have gone either way, but the consistency just got too much for the Woodie's in the end. I don't think this is the last time we will see these teams go head to head in fact strong talk of a rematch has already begun in the offseason.
Player of the Match- Nick Law showing super consistency at all sports, in fact I reckon he could pick up Jordos worn-out old balls and doing something good with them
Summary
Went back to Smithy's , couple of beers- the DK appeared like a ghost, jumped in Smithys boat for a tour of the archipelago and dinner at the marina with beers and no less than 10 shots each between conversations, back in Smithys boat in the dead of night with smithy whacking the throttle down. Back to smithys, Pizza and pass out- except for Nick who walked off into the woods to catch a bus and has not been seen since.

Player of The Day– Smithy

New Balls Please!
Wispering Death.