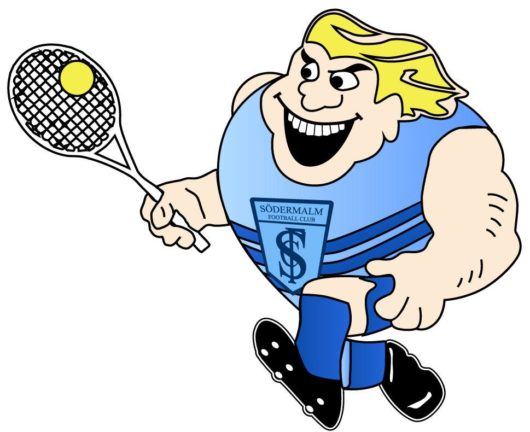 On Saturday the 12th of September 2020, the inaugural Södermalm AFC Tennis Championships took place. Courts were booked at one of Europe's finest tennis academies in Danderyd at the "Good to Great" tennis academy at Catella Arena. The academy was set up by the famous Swedish trio of Magnus Norman (coach of Stan Wawrinka), Mikael Tillström (coach of Gael Monfils) and Nicklas Kulti. All three have won the Davis Cup for Sweden and all three have been ranked among the best in the world during their careers so the stage was set for a big day indeed. 2 courts were booked on the brand new outdoor clay surface and 11 members from Sodermalm AFL put their names down to play. We could only take 8 players so Perillo, Briscoe and Kingsley were put down as reserves. Players were ranked by tournament director; Smithy based on a highly technical system that required the use of quantum computing facilities at one of the local hedge funds. The idea being that good players should be teamed up with weaker players in order for a more enjoyable tournament.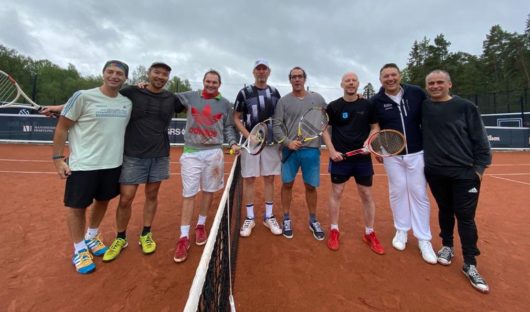 Rankings were as follows where A = Ridiculously Good and E = Ridiculously Bad:
Smith = B+
Bruffy = C
Nick = C
Logan = B
Rappa = D
Alex = C
Condo = B+
Larry = D
Reserves:
Perillo = C
Kingsley = B+
Briscoe = B+
The tournament director then set the draw:
Match 1 = Bruffy/Alex V Smith/Larry
Match 2 = Logan/ Nick V Condo/Rappa
Winners of Match 1 would then play Winners of Match 2 and Losers of Match 1 would play Losers of Match 2.
And then the rain came………..
The light rain had a few of the players concerned about turning up but only one player (Condo) dropped out due to non-rain reasons and was replaced by Kingsley and so play began. All players had brought suitable attire including clay shoes and a few bandanas were spotted. Smith who fancied himself for the win almost had a heart attack when his partner, Larry turned up with a wooden racket from the 1960's and shorts tighter than Boris Becker at his peak. Smith and Larry were taught a lesson in tennis from Bruffy and Alex and lost the first set 4-6. Smith and Larry regrouped and in an epic turn around won the second set 8-6 leading into a third set tie breaker. Bruffy and Alex were rattled and in the tie breaker third set Smith and Larry got up 7-4. Alex had turned up in all whites and Bruffy had claimed that he had been dazzled by his partner's outfit. Dazzling indeed! Meanwhile on the other court the Kiwi, Nick Law had been booming down some big serves together with his partner the South African wonder Sean Logan and those boys managed to get up over Rappa and Kingsley in 2 sets; 6-2, 6-2. The next rounds took place immediately and Kingsley interchanged with Perillo and that proved costly as Alex and Bruffy got up in the first set 6-1. Players then mixed and matched on that court and no real "loser" was declared. Sensible indeed. On the other court where the finals were to take place claims from Nick and Logan that they were disadvantaged by being made to change court in order to play on the court that Smith and Larry had just won on were taken to the tournament director Smith and were disregarded immediately…… strangely. An epic final then took place. Swedish Larry and the Aussie Smith were shocked by the serving speed of the Kiwi and the net aggression of the South African and went down hard in the first set 6-1. Smith and Larry regrouped and took the second set 6-4 as the young Kiwi and not so young South African began to tire and the double faults crept in. A third set tie break was going to decide it and the 1960's racket of Larry came through for team Smith and Larry who won the third set 7-5 to be crowned the inaugural Södermalm AFC tennis champions for 2020.
All retired to the change rooms somewhat wet from the light rain and then convened in the Good to Great facilities for lunch and beers. Some of the crowd then carried on in Hammarby for further beers ……. A really great day and highly likely to be repeated soon – stay tuned. Thanks to all who participated and to the club as always.
Tournament Director (self appointed) – Andrew Smith.