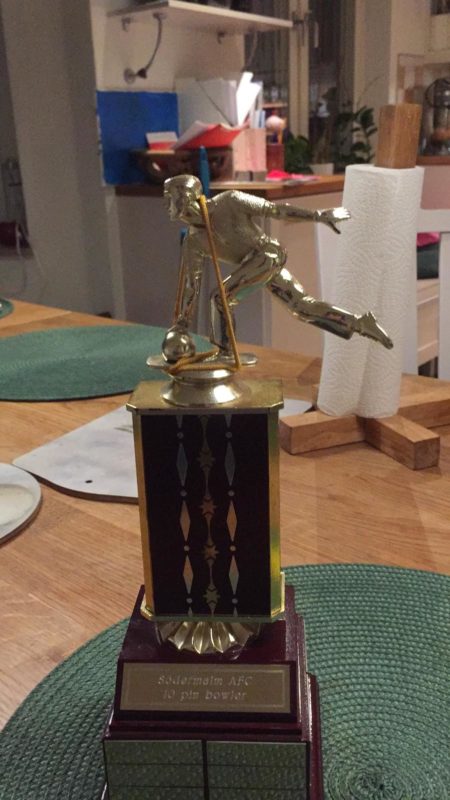 The 2020 bowling night was my first experience of a Södermalm AFC social competition. It was with a sense of excitement that I approached the grey bowling building beside Gullmarsplan which I was used to visiting for my daughter gymnastics competitions. I had met a few club members at the cricket, dad's barbeque and tennis however the build up to this event on the what's app channel indicated this was serious stuff. Film clips from the Big Lebowski, colourful bowling shirts, some American nut shouting at the public, serious trash talk and a broken trophy cemented a sensation to expect the unexpected. The trash talk was at another level than that Smithy served up at the tennis. When I arrived I was met by a barrage of new names and faces. Brissles, Tanka, Macca, Cordo, Smurf, Tip Tapp and Don Keys . I though "Shit, how am I going to remember all these names?". We got served a complimentary beer and then the draw began. The names where put face down and then lotted into 5 groups of 3 and 2 of 2. Amongst the aussies we were also 2 swedes, and Englishman and a Mexican. Tip Rat requested a quick check of the associations statutes to see whether Mexicans were allowed and was assured this was fine in spite of the risk of the spread of Corona. The rules were simple. Top 4 results from the first two sets with 2 lucky losers joining them in the final.
As a lucky loser Tip Rat was confident of getting one of those places. Cordo and Kingsley were late and didn't arrive until mid-way through the first set so it was all down to the second set for them. Larry and I were in a group of 2 playing next to the other group of 2 of Jordo and Don Keys. Quite quickly we had played our first 2 sets and noted that none of us were anywhere near the top 4 spots. Nevertheless, Larry and I got the best overall scores – well over 450! 2 of the top 4 came from lane 14 – Brissles and Tanka. They were joined by Rappa and Nick. Finally, the lucky losers were drawn and it was Tip Rat as expected and Macca who didn't want to be a lucky loser and gave his place to Fergo. The final provided moments of excitement not the least as the bowlers kept changing lanes so it was not easy to see who was bowling in what lane. In the end, Rappa prevailed edging out Fergo by one point. Brissles came third but somehow Tip Rat made his way onto the 3rd step.
So there it was – Rappa 1st, Fergo 2nd and Tip Rat 3rd . After this we went to the restaurant to enjoy more beers and a burger. The president gave a summary of the year that had passed, number of members, number of paid members, number of events and upcoming events. There was an awards ceremony and a vote for the member with the best looking shirt that Fergo with his pineapple shirt won. After that it was time to head into town and Götgatsbacken. The evening continued and what happened at Brunos stays at Brunos….