The "Corona safe" Annual Söder AFC Bowling event 2021 took place on the 7th May at Gullmarsplan Bowling. Everyone was charged up ahead of the event keen to see who would win the prestigious event and take home the loudest shirt comp.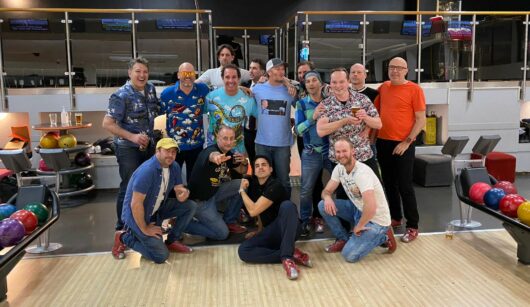 There was the usual banter and trash talk on the Whatsapp channel prior to the event. There was also a sinking feeling that Piney would not attend and challenge with his array of Pineapple shirts and despite many attempts to smoke him out with pix from previous antics he only chirped up at the last minute and gave Bruffy his blessing to take over the mantle.
A hardy crowd of 15 turned up with André acting as officiator to ensure that procedures and rules were followed. Unfortunately, an early encroachment was discovered when Brissles was discovered to have smuggled in his own pair of black trainers. Brissles weaved and danced his way to the point of delivery throwing curl bowl after curl bowl, racking up 5 strikes in a row. His lane companions were absolutely devastated with Murphy wetting his pants and having to mop up the mess so no one would "slip over".
Brissles dominated both the practice and comp round. Others focused on refreshments including a round that Guru ordered with the proceeds of his bitcoin winnings. But there was no stopping Brissles. He was an unstoppable force. The team in Lane 3 were so devastated for some reason they didn't get past the half-way mark in the deciding set.
Following the outclassing by Brissles there was a protest over the use of own shoes but to no avail. Brissles prevailed and the President was left so embarrassed by this rule encroachment it was left to Secretary Tesdorf to hand over the trophy that was glued back together in one piece. Then the beauty contest started, and it eventually came down to a face-off between Bruffy and Larry (via his proxy Condor). The first heat was tied 7-7 but Bruffy prevailed and won the equally desirable white Russian.
Finally, we were all turfed out by the wicked witch of the kitchen who demanded that Rappa settle his tab. Rappa passed it on to DK who settled outstanding business and we were off to Clayton's for some Aussie classic music and a slab of Falcons. We then all sat round the bar table on bar stools admiring the Swans 2012 AFL premiership paper cut-out and making noises from all ends down Clayton's digeridoo… Thereafter memories fade somewhat…