On Sunday 19th April we embarked on our first official club cycle ride, to qualify for a match we had 5 valiant warriors Jonny Briscoe, Jordo, Andree, Perillo and new member John Cullen.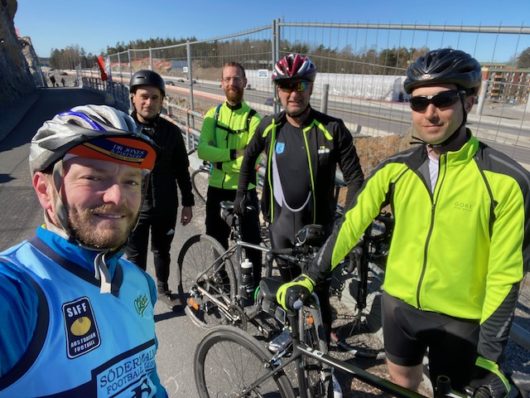 Starting out from Älvsjö station a little late due to a bike misplacement, we headed down through Huddinge. After rescuing his water bottle which jumped down the ditch at Haradsvägen, Perillo then formed a solo break away on his 3 speed town bike and headed off on his own route down Glömstavägen.
The peloton, not concerned, eventually hauled him in after riding round the back of Huddinge sjukhus.
After a drinks pause we flew down the hill from Flottsbro gathering speeds up to 65km/h, then busted a sharp "right turn Clyde", to begin the journey back towards Stockholm, via Kungens Kurva.
As we re entered into Stockholm kommun, Perillo again put his head down and broke away but this time, despite an exhaustive search, he was never seen again in a scene reminiscent of the 2009 club pre-season training when "Fingers" led the club run around Södermalm and at the finish line kept running off into the sunset and has never been seen since.
The remaining riders followed the route back to Älvsjö station where there was talk of having a beer but that was postponed for a future event.
Be sure to get involved and get along to the next club ride for some fun and exercise! Everyone at every level is welcome. Please contact any of the board or email the club if you are interested to join.