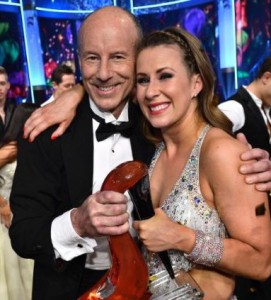 Congratulations to our very own Larry who together with Cici, won Let's Dance Sweden 2015!! Unless you have spent the last few days under a rock, you would have surely seen the celebrations through the streets of Stockholm and in fact all around Sweden.
Larry's trademark leap (pictured below) helped win him a place in the final on Friday night, and with a twinkle in his eye, he dazzled the judges and more importantly, all the TV viewers at home to take out the coveted Red Glass Shoe Trophy! (left)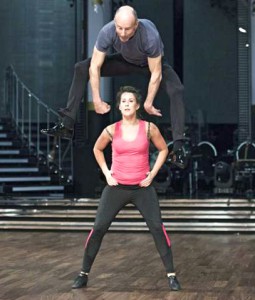 Equally as impressive was the fact that he showed up for Söder on Saturday and played a great game of footy in our victory over Malmö! All spectators at the match agreed that his 'quick step' routine in the backline had the Malmö players bamboozled!
Congratulations Larry and let's hope Söder can add some more silverware from the footy field to your collection later this year!